March 1, 2023
During a career spanning six decades, Carlos Cruz-Diez (1923-2019) produced radically innovative works that explored the behavior and experience of color in space. Selected by ICAA Director Mari Carmen Ramírez with the artist while he was still living, nearly 100 documents from the archive of the Cruz-Diez Documentation Center, in collaboration with the Cruz-Diez Foundation, will be published in the ICAA's Documents Project this year, commemorating the centennial of the artist's birth. Comprised mostly of newspaper articles from the 1940s to 1990s, the selection makes freely accessible primary sources that chronicle Cruz-Diez's development as an artist, the reception of his work, and his pioneering contributions to art in Venezuela, Paris, and beyond. The first set of 43 documents from the selection is now available in our digital archive.
"Cruz-Diez is one of the pillars of the MFAH Latin American art collection," Ramírez says. "We not only own a number of key works by him but also manage approximately 80 works from the Cruz-Diez Foundation Collection which are on long-term loan to the museum. These works serve as the basis for programs and exhibitions of his work at the MFAH. The document selection is meant to expand and provide depth to the museum's collecting efforts. The documents—mostly critical articles that appeared in newspapers, catalogues, art magazines by leading art critics of the time—provide an overview of the critical reception of his work in the European and Latin American press throughout several decades of intense production. Cruz-Diez was a great communicator and some of these documents involve interviews where he explains the theoretical premises of his experiments with color. All in all, this trove of documents illustrates the artist's position as an artistic visionary and innovator."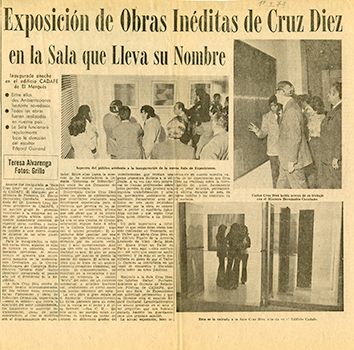 Documents were digitized by the Cruz-Diez Documentation Center, which manages and preserves the artist's archive. "On the eve of the celebration of Cruz-Diez's centenary, the collaboration between the Cruz-Diez Documentation Center, the Cruz-Diez Foundation, and the ICAA reminds us that archives contain memories," says Silvia Ana Ramírez de Cruz, researcher and writer at the Cruz-Diez Documentation Center. "These memories are like maps that allow us to travel in time and understand the past by listening to its voices, to situate ourselves in the present and project ourselves into the future."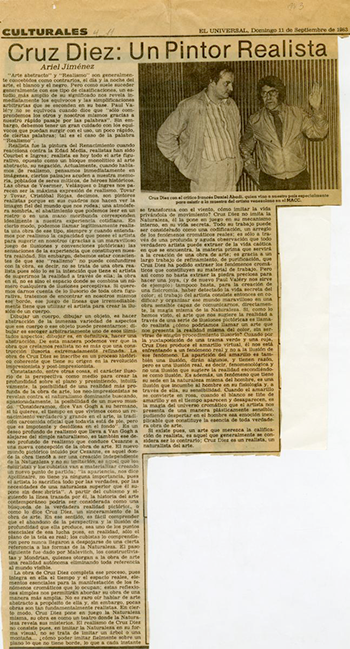 Synopses and annotations for the documents were written by the Venezuelan art historian Ariel Jiménez, an expert on Cruz-Diez who worked with the artist for years in his workshop in Paris. Jiménez remarked that this compilation of texts, spanning countries and decades, is significant for the many perspectives it provides on Cruz-Diez's career. Readers can understand Cruz-Diez's work and the opinions of writers, the public, and the artist himself within a specific moment and context, and trace how these evolved over time or varied across regions.
"Being part of this collection makes these articles extremely interesting; they no doubt provide researchers with firsthand information that frequently goes beyond the authors' intentions," Jiménez says. "By comparing one author to another, one historical context to another, researchers can detect latent contents that were not always voluntarily mentioned by journalists or art critics who reviewed his work."